Free Church Forms, Letters, Certificates, Flyers, Brochures & So Much More

Are you looking for church resources? If yes, you are in the right place! Here you will find 900+ Free Church Forms, Letters, Certificates, Flyers, Brochures, Cards, Games... to download, customize and print absolutely free along with many other valuable free gifts!

---
---
Free church forms are not always easy to find on the web so I was inspired to build this website to try and make it a little easier for churches to find forms for all areas of their church. The free forms, certificates, flyers...are available 24 hours a day 365 days a year with immediate access. It's easy and free - just find the form you want and download it!
---
---
Do you need an affordable, user friendly church membership database? If yes, click Shepherdbase on left Navigation bar (top left side of your screen).
Click the link below to translate any of these forms, letters, etc. from English to Spanish and more.

Haga clic en el enlace de abajo para traducir cualquiera de estas formas, letras, etc. de Inglés a Español y más.

Translate forms, letters, etc. from English to Spanish and more.

---
---
Labor Day is a holiday where we celebrate our workforce in the United States and most of us go have a cook out, etc. but sometimes we celebrate it at church also!
There are Labor Day Forms, Activities, and Ideas with free banners, crafts, flyers, cards, coloring pages, games, poems and so much more available below that you can use for your Sunday School, church activities/events and/or even personal use. Click on the link below to access them!
Click here to access the free Labor Day Forms, Ideas, Activities and much more to download and print at your convenience 24 hours a day 7 days a week.
I love to find free stuff on the internet as long as it's not bait to rip me off. You don't have to worry about this website. There is no hidden cost, free trial period, or "collecting all your information so I can sell to the highest bidder" cost.
If you have been surfing the web trying to find some free church forms or even some certificates you have found the right place. Feel free to search easily for any form on my Site Search Page.
---
Shepherdbase - Church Membership Database

I created (Shepherdbase) so even small churches could afford to have a way to track their memberships, contributions, attendance and much more!

You can purchase Shepherdbase On Sale Right Now through July 31st, 2018 By High Demand for ONLY $29.99 (One Time Fee with Free Lifetime Upgrades). As a Bonus and Thank You for purchasing Shepherdbase you will receive two free gifts (Offering Envelope Templates & Offering Count Sheets) - Hurry and Enjoy These Savings and Benefits!
Shepherdbase will:
Track church member's information with a very nice Church Membership Directory (name, address, phone, email address, date of birth, member's pictures, anniversary, etc.) with unlimited memberships and Free Lifetime Shepherdbase Updates.
Track church member's contributions and automate Annual Contribution Letters.
Filter church member's information with the click of a button (birthday and anniversary monthly reports, member's name and phone number), and so much more.
Track Church Attendance with quick access to attendance reports.
Shepherdbase is a very simple and user friendly database, but very powerful with a 100% Satisfaction Guaranteed.

---
---
Do you ever feel overwhelmed, stressed and maybe at a lost over your church finances and/or church accounting? If so, you're not alone and don't worry I have the solution right here in this book - "The How-To Guide for Small & Growing Churches" Paperback Book!
As you probably know, church accounting is not the same as business accounting. For instance, if you are a church bookkeeper you must be aware of special tax codes that govern the church's unique tax standing. Way to often particularly in smaller churches with volunteer administrators or overworked employees they do not know every aspect of the tax codes that affects their church's ability to accept donations, oversee a benevolence fund, and also offer a compensation package for their minister.
---
This website is very easy to use as well as informative, and will save you and your very precious church time and money. FreeChurchForms.com has free church forms, letters, certificates, flyers, brochures and so much more that has been created to help small churches or churches of any size or denomination to be able to download, modify and print professional and attractive forms, flyers, beautiful church certificates, cards, brochures, games...and even a free eBook - "Top Ten Tips on How to Organize Your Office"!

Important: The free church forms, agreements, contracts, etc. that you have searched online and received free or the ones that you paid for can never replace the advice of a lawyer. Each individual state has different circumstances and laws that apply to different types of churches and organizations. We strongly recommend that you have your church forms especially legal agreements or contracts, reviewed by a lawyer in your state for any questions or legalities for your own individual church.
These sample forms on FreeChurchForms.com are meant to serve as example forms and should not be construed as legal documents.  Please contact a legal professional for legal language for your specific state and organization.
I'm continually creating more free church forms, certificates, flyers...to download so subscribe to this site via the RSS feed below nav bar on left!
---
Aplos - Church Accounting Software
Simple and Efficient!
Are you tired of complicated church accounting software? If yes, then you need to try Aplos!
If you have a small church or non-profit organization that depends on volunteers or you have frequent turnovers then it is very important for you to have an accounting system set up that is simple to use and easy to learn.
FreeChurchForms.com readers will receive a special discount of 30% Off for 12 Months simply by entering the Promo Code: FCF12 in the promotion code box!
---
Do you use QuickBooks for your church accounting needs?
If yes, then the "QuickBooks® for Churches and Other Religious Organizations" by Lisa London, CPA</a> eBook below is a must for you!

Lisa will walk you through QuickBooks from start to finish, complete with examples, terminology, and everything a busy church administrator or bookkeeper needs to know.
This book is written for the beginner and advanced church bookkeepers alike, in a friendly and easy-to-understand style. It includes:

Step-by-step instructions on how to set up QuickBooks and utilize it more efficiently for your church


Valuable tips on how to make QuickBooks work better for churches, both large and small   

Numerous illustrative screenshots and time-saving shortcuts
Click the link(s) below to access:
---
Do you use QuickBooks Online for your church accounting needs?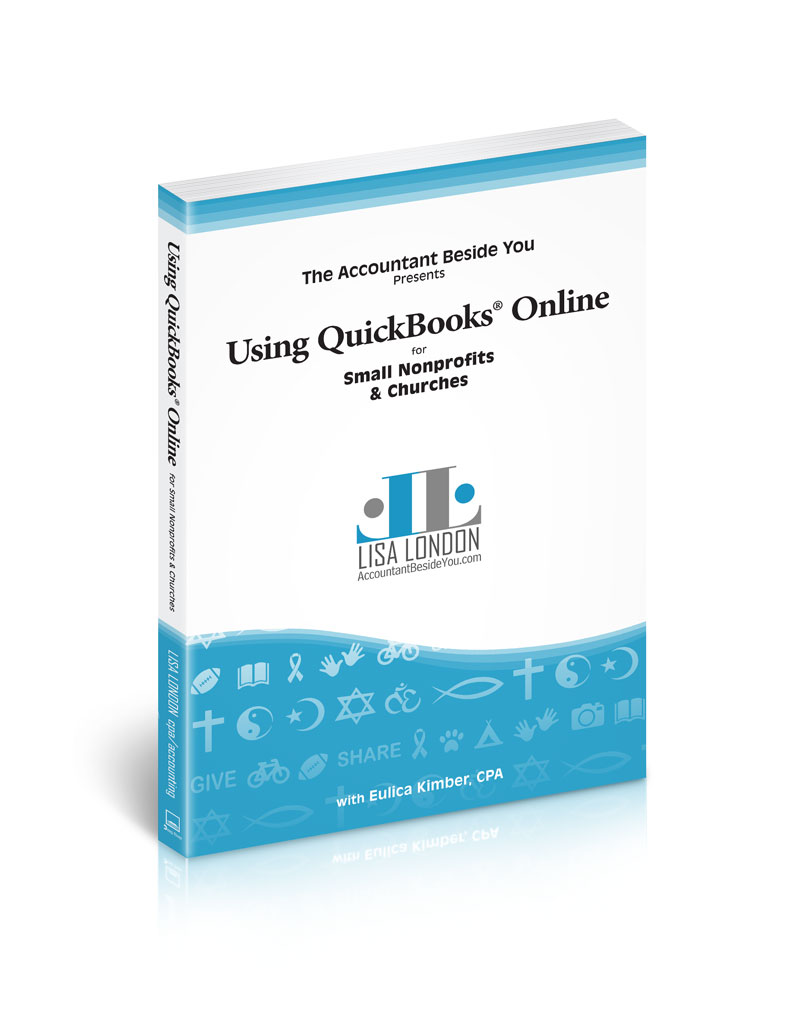 "Using QuickBooks Online for Small Nonprofits and Churches"

Nonprofits and religious organizations often need the convenience of online accounting. The Accountant Beside You, Lisa London, is joined by CPA Eulica Kimber to explain how to set up a nonprofit organization in the online QuickBooks® program, QBO®. In a reader-friendly and engaging style and aided by hundreds of screen shots, they explain how to set up and utilize QuickBooks Online.
Topics include:
Procedures to guard against theft and errors

Designing a chart of accounts (with examples for different types of nonprofits in the appendix)

Converting a desktop QuickBooks organization into QBO

Tracking donor gifts and grants

Importing donor and vendor contact information

Receiving money, paying bills, and tracking credit card charges

Reconciling accounts

Budgeting

Designing management reports

Month-end and Year-end procedures

Tracking fundraisers, in-kind donations, volunteer hours

And so much more.
For more information on "Using QuickBooks Online" click the link below:
---
I have the FreeChurchForms.com Table of Contents available with all the free church forms, letters, certificates, flyers...by categories. You can just click on the church form you need and it will bring you directly to the page to download. You can access the Table of Contents by simply signing up for my Free Monthly Newsletter (top right hand corner of screen).
There are no hidden costs. You will just have access to lots of great church information, new church forms, certificates, flyers, brochures, sample policies and procedures... and you will also have access to my free 14 page eBook - "Top Ten Tips on How to Organize Your Office" as a Thank You Gift for signing up.

Just simply enter your email address in the small form in the top right corner of screen and subscribe to the "The Form Gallery" and you will be able to access the FreeChurchForms.com Table of Contents immediately in any back issue, and receive the free eBook today also.
---
Who am I?

My name is Terressa Pierce. I work a full time job (home business). I'm also the secretary for my church. I've been the Church Secretary for 21+ years now, and I really enjoy the ministry God has given me even though it has been very stressful at times.

I've worked as a secretary in many different fields for most of my life (36+ years), and I know how stressful this job can be at times. I love to create different types of forms that can save me and other people in the office lots of time and stress. I just want to be able to share my work and save God's precious, hard working, loving people some time and stress out of their busy schedules in their ministries.
---
We have a Wonderful Church Financial Adviser at our church who has inspired me to do this website. She has a website where she gives away free church accounting spreadsheets and lots more.
Before she was elected our Financial Adviser I was literally pulling every one of my hairs out trying to keep up with our accounting on a paper ledger. She created a simple accounting software just for me and made my life sooooooo much easier. She has been able to share her accounting spreadsheets with all kinds of wonderful people all over the world.
We have a small nonprofit church and we're not able to just go buy the software we need. She has made my life easier and she can make yours easier also. You will be glad you did.
I will be referring visitors to her website for free church accounting financial spreadsheets, and nonprofit accounting information. She also has all kinds of free church accounting information you need to know regarding church tax laws, etc. that you would have to pay for from any other site. Please feel free to visit her website at FreeChurchAccounting.com.
---
I found a wonderful company called "Solo Build It" (Site Build It was their former name) to build my website when I was looking online. It is a great company to start your first website!
They can help even the most inexperienced novice (like me) build a website. They have many wonderful tools to help you every step of the way and they even take care of the maintenance on it.
I had absolutely no experience whatsoever when I built my website. They have step by step guides, and they also have a wonderful forum help to share information and get expert advice. It is also very affordable considering everything they have to offer.
I have been successful with the help of SBI because they give you the opportunity to build traffic with the best of tools available and forums! If you're interested in building your own website click on the banner below. You will find out everything you need to know on how to build your own site. It is very rewarding when you are able to help so many people.

---
All the church forms, letters, flyers, baby shower invitations/games, beautiful church certificates, crafts, brochures, cards, gift certificates, etc. are easy to download and they are absolutely free. Feel free to download what you need at your convenience 24/7.
Feel free to search my site for whatever needs you might have. Also, please sign up for my free newsletter to keep up-to-date on my new free church forms, certificates, flyers...and also receive great information on church-related issues and forms.
Please contact me with any questions or concerns you might have. I really appreciate and enjoy the sweet sincere emails thanking me for this website and for all the hard work I have done to help other churches including their own church. You can find some these emails on the right hand side of the screen. I also enjoy meeting people from all over the world!